For executive search we can bring a candidate base of 5,000+ senior managers to bear
InterExcellent Executive Search is specialised in acting as an intermediary for experienced candidates with a higher vocational or academic education. We search, select and act as an intermediary for candidates for management board and management positions. We have an excellent, up-to-date database of more than 5,000 senior managers at our disposal who are interested in a long-term assignment or position in permanent employment.
Integrity, professionalism and quality are the key words of our approach. We want to work on an assignment exclusively with a term of guarantee. As we set great store by quality and professionalism, we comply with the NVP code (the Dutch Association for Personnel Management & Organisation Development).
Interim management prior to a permanent position
Do you need a manager at short notice? We can provide an experienced interim professional first, while continuing to look for the ideal permanent candidate.
Make an appointment for an exploratory interview
We will be pleased to explain our working method in an exploratory interview. Contact InterExcellent by telephone: +31 (0)35 5280430. You can also reach us in the evenings and at weekends.
For more information about Executive Search, please contact Geert-Jan Poorthuis.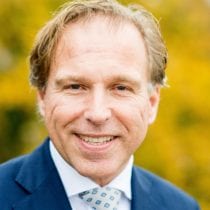 Drs. Geert-Jan Poorthuis
Managing Partner
Executive Search en Interim Management